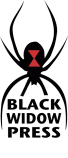 How you can buy current Black Widow Press titles in the USA:
(Retailer, Institutional and International ordering information can be found below)
Order through our secure online Paypal shopping cart. Simply click the button found below each of our available titles. We accept credit cards or PayPal payments via the shopping cart.
By Mail: Please print out a copy of our order form (you will need a copy of Adobe Acrobat Reader to print out the form) and fill it out. Please include all of your selections and your check, money order or credit card information, and mail to:

Black Widow Press
c/o Commonwealth Books, Inc.
9 Spring Lane
Boston MA 02109


By Phone: Call toll free: (800)259-7616. Be sure to have your credit card ready.
At a Bookstore: Click here for a partial listing of bookstores that stock Black Widow Press titles. Black Widow Press titles are also available through Amazon.com, BN.com, and can be ordered though your local bookseller.
Please inquire for shipping rates. Additional shipping charges will apply.
Checks and Money Orders must be made out in U.S. Dollars. Additionally, checks must be drawn on a U.S. financial institution.
Retailers in New Zealand & Australia may order our titles through Central Book Services (see below).
Our books can be ordered through Baker & Taylor, Ingram, most wholesalers, or directly through our distributor: Distributed throughout the United States/Canada/UK by:

National Book Network
15200 NBN Way
Blue Ridge Summit, PA 17214
8am - 6PM EST
800-462-6420 Phone
800-338-4550 Fax
custserv@nbnbooks.com
www.nbnbooks.com
Retailers in New Zealand & Australia may order our titles through Central Book Services:
Central Book Services
648 Whitehorse Road
Mitcham, Victoria
3132 Australia
www.centralbookservices.com.au
info@centralbookservices.com.au
Stores without accounts at these companies can order directly from Black Widow Press, with the following terms/conditions:
Pre-paid orders only
Single item order: 35% plus $2.00 shipping.
2-4 items: 40% plus $3.00 shipping.

Pre-paid or Net 45 days
5-25 items: 44% plus $5.00 shipping.
26 and up items: 46% plus $8.00 shipping.
Non-returnable items: 50%

Consignment
40% (Inquire about terms/conditions.)
20% for 1-4 copies
30% for 5 or more copies
40% for standing orders of 3 or more copies.
Universities: New Accounts:
New trade customers should prepay their first order (unless prior arrangements are made with Black Widow Press) and request a Net 45 day account. Beginning with the second order, the customer will be extended credit.
The invoice for your previous order must be paid in full, prior to submitting any subsequent orders. Thank you.
All Invoices are Net 45 days.
All terms are subject to change.
Returns Policy:
No returns prior to 120 days from our invoice date.
Returns will be credited at original discount.
Returns must be in saleable condition. Stickered books are ineligible for credit.
No cash refunds. Merchandise credit only.
Credits are valid for two years from date of issue, and are automatically applied to open balances on monthly statements.
Any account whose annual returns exceed 25% will automatically convert to 50% non-returnable status.

Click here to return to the main Black Widow Press site.